Three-Day Strike by Hundreds of Security Officers at Kaiser Hospitals
By Service Employees International Union
Large rallies in Northern and Southern California today marked the close of a three-day, statewide unfair labor practice strike by hundreds of hospital security officers at 23 Kaiser medical facilities that succeeded in raising public awareness about illegal labor practices by Kaiser contractor Inter-Con Security.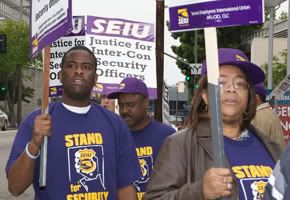 "The public needs to know that the security officers responsible for making Kaiser hospitals safe and protecting vulnerable patients are being denied our fundamental civil rights. Inter-Con freely uses intimidation, spying and retaliation to harass its workers," said Shauna Carnero, a security officer in Hayward.
The strike, which began May 6 and included major rallies outside Kaiser medical centers in Oakland, Sacramento and Los Angeles, followed numerous federal complaints that workers have filed with the National Labor Relations Board in recent weeks charging Inter-Con with unfair labor practices over the past two years.
Inter-Con has used an array of illegal and unfair tactics to thwart security officers as they pursue their legal right to organize a union with SEIU that can help them fight for a living wage and reasonable healthcare benefits. Inter-Con has threatened, harassed, intimidated and interrogated workers.
Inter-Con officers work for poverty wages, many making as little as $9/hour while at Kaiser. Many Inter-Con officers don't have healthcare, and 41% of officers in a recent survey said they cannot afford the company's family healthcare coverage. Officers also have no sick leave. By comparison, janitors who work for Kaiser get free individual and family healthcare, make a minimum of $11.50/hour and accrue paid sick leave.
"It's more than a little ironic that the security officers working to protect the patients and staff at Kaiser Permanente — the state's largest healthcare provider — can't afford healthcare coverage," said Emily Heath, secretary-treasurer of SEIU Local 24/7, which represents 5,000 security officers in Northern California. "Even more troubling is the fact that Kaiser is content to sit on its hands while one of its contractors, Inter-Con, is using unfair labor practices to deny employees their basic rights."
Under its contract with Kaiser, Inter-Con is supposed to provide all 1,800 of its officers working at Kaiser nationally with individual healthcare after the first 90 days of employment. But an increasing number of workers report that Inter-Con is not following through with promises to workers, sometimes retroactively changing their start dates and altering their employment status to exclude them from coverage.
"It's unacceptable that a healthcare leader like Kaiser has this many workers under their roof that don't have health insurance. These officers put their lives on the line every day, and if they get hurt or get sick, they need healthcare. Their families need healthcare," said Faith Culbreath, president of SEIU SOULA which represents more than 5,000 security officers in Southern California.
Security officers are the only employees at Kaiser that are not represented by a union.
"We wanted a union for better pay and benefits. But instead we've got Inter-Con violating our civil rights. We go to work every day to protect these patients and employees, but we have no protections ourselves," said LaRonda Lynch, a security officer at Kaiser Sunset Medical Center in Los Angeles.