ON DVD: Showstoppers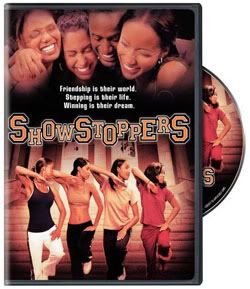 DVD Release Date: February 5, 2008
Synopsis: The girls of Lambda sorority have their eyes on this year's national stepping championship and step captain Destiny (Faune Chambers) is determined to take her sisters all the way to the top.
The team's onstage pyrotechnics are rivaled only by the backstage fireworks created by former friend and current rival Pam (Angell Conwell), who does her best to undermine the team's confidence on its way to the finals. While plucky Destiny keeps the team focused on victory, she is also trying to reclaim the heart of her long-time love Fabian (Bryce Wilson).
The fiercest, most unforgettable onscreen dance competition since box office blockbuster Stomp the Yard, Showstoppers sizzles with hot tracks, dynamic dance moves and comedy.